Conditions of Entry
KEY CONDITIONS OF ENTRY TO THE NANUA PICNIC RACE CLUB AND KIMBERLEY STATION
Signs shall be displayed across the grounds, although this is an early reminder about what we DON'T what to see out at Nanua:
The Club wishes you a safe and enjoyable weekend. Please behave respectfully; antisocial and / or unruly behaviour will not be tolerated.
NO dogs in Public Area;
NO glass bottles or cups in Public Area;
NO prohibited drugs;
NO excessive noise after midnight in the campgrounds;
Use rubbish bins provided;
Speed limit 5km/ph;
All NSW traffic laws apply;
Persons enter and remain at own risk to selves and property;
Those in breach of a condition or law may be removed and may be charged by police with relevant offences;

By authority Nanua Picnic Race Club Inc
Information on this page
PUBLIC AREA
ENTRY FEES / CAMPING FEES
DOGS AT THE TRACK
MOBILE RECEPTION
ROAD CONDITION REPORT
ATM's
CAR PARK AND PERSONAL POSESSIONS
PHOTOGRAPHY, FILM AND RECORDINGS POLICY
NANUA BAR POLICY
LIABILITY WAIVER EXCLUSION OF CERTAIN RIGHTS TO SUE
PUBLIC AREA
At the Nanua, we have a 'PUBLIC Area'. This is the zone around the buildings where you will find the bar shed, saddling enclosure, secretaries office, food outlets, toilet blocks, other buildings etc. In this area you may only drink alcohol bought from the bar. No glass bottles or cups are to be in this area. No cars or dogs may be brought into this area. No Camping in this zone.
The camping grounds are BYO drinks. Have no fear, esky's in the campground are all good - just remember to keep them under lock and key when not near your vehicles.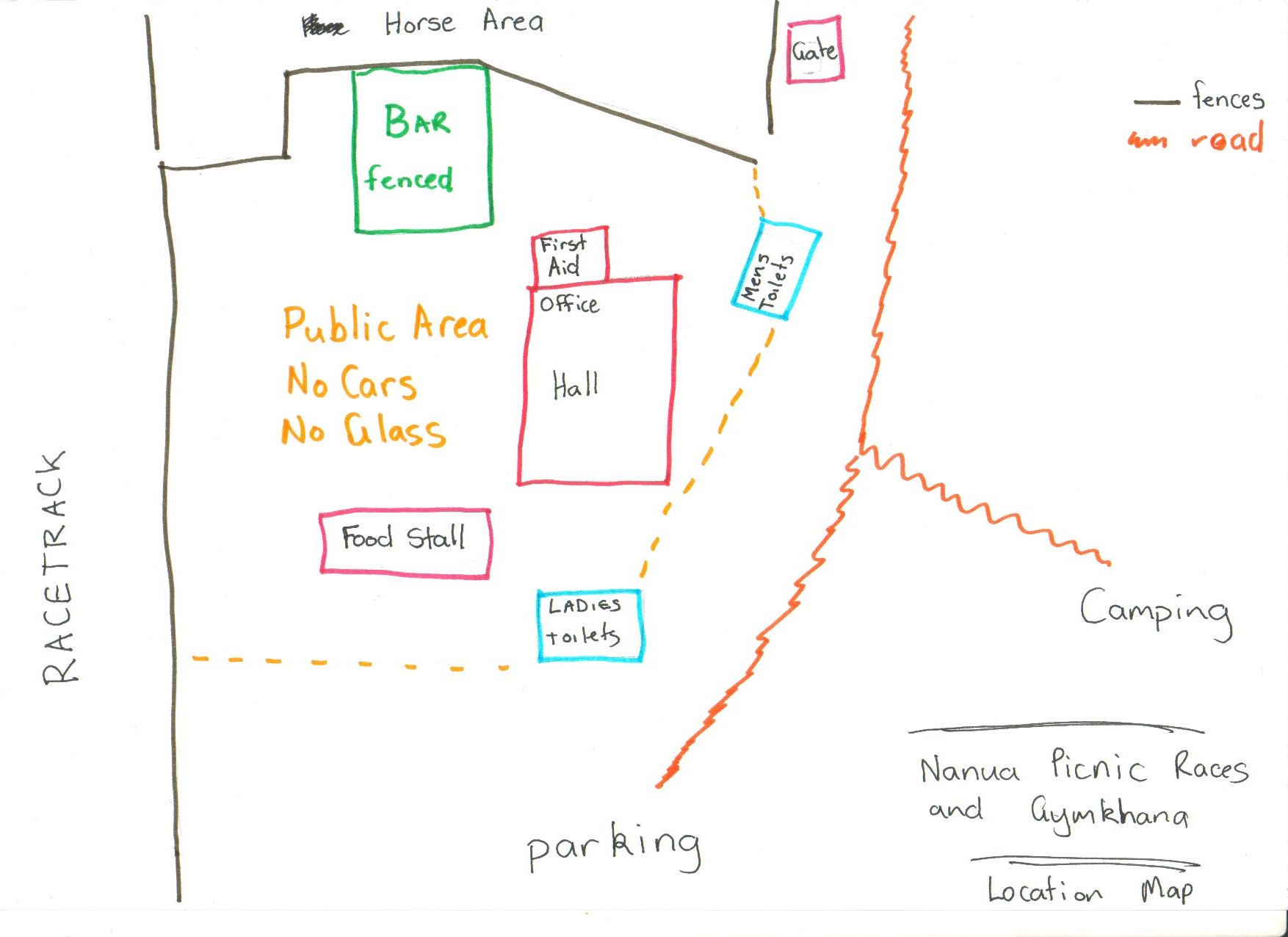 ENTRY FEES / CAMPING FEES
Legacy Gatekeeper will be manning the entry gates from Friday after lunch onwards. Upon paying your entry fee, a gate ticket is issued.
Any campers already on the inside of the gates will need to go back to pay for entry, otherwise you won't have the correct ticket and entry into gate draw.
We don't charge for camping at the racecourse and you have access to power and hot showers. If you come earlier than the weekend we do appreciate it if you give a lending hand with the clean up and set up. It is a great opportunity to meet the locals and support the club.
DOGS AT THE TRACK
As per the Conditions of entry, we stress that no dogs allowed at the track in the PUBLIC AREA sorry - This is a long standing policy of the Club and we want to make sure this is clear, to avoid disapointment. We cannot jeopardise the safety of the horses, jockeys and crowd. Be it a Great Dane or a Chihuahua, the same applies.
Nanua is no place for a dog, so please do not bring them. For those who happen to be traveling with dogs, they must stay secure and in your camp which must not be near the public area.
*** Seeing Eye Dogs and Police Dogs are of course an exception.
MOBILE RECEPTION
We have NO RECEPTION at the racecourse but you can access servive 5km away for emergency use only. To contact us for an emergency please send a message to the Nanua Picnic Race Club facebook page which is monitored over the weekend at the racecourse or ring Kimberley Station on 08 80911624 and leave a message.
ROAD CONDITION REPORT
Just a reminder that all roads to Kimberley are UNSEALED!!! They will be ok for 2WD cars, but everyone needs to exercise caution.
You MUST drive to conditions and be careful on these roads with so much traffic, wildlife, dust etc. Turn your lights on, don't sit close behind another car in their dust, pull right off to the side if you need to stop etc etc. Please just be patient and show some common sense on our outback roads!
Information will be available to the best of our knowledge on the Nanua facebook page.
ATM's
There are NO ATMs or facilities to withdraw money at the racecourse. Please bring enough money with you.
CAR PARK AND PERSONAL POSESSIONS
Entry into and the parking and leaving of vehicles in the grounds at the racecourse is at the risk of the driver/rider and passengers.
Whilst at the racecourse patrons are responsible for their own property. Patrons must not leave bags or possessions unattended at any time and should ensure all valuables are removed from vehicles.
PHOTOGRAPHY, FILM AND RECORDINGS POLICY
By attending the meeting each patron acknowledges that he/she may be photographed, filmed and/or recorded in any way and:

consents to being photographed, filmed and/or recorded by or on behalf of the club for the club's advertising and promotional purposes; and

if the patron is an owner of any horse present at the racecourse or whose image is displayed at the racecourse, consents to their horse/s being photographed, filmed and/or recorded by or on behalf of the club for the club to use and reproduce such photographs, films and recordings (including the colours worn by the relevant jockeys) for the club's advertising and promotional purposes.

The club will appoint a dedicated photographer to record the event as appropriate. The club will negoitate a deal as appropriate.
The club enjoys having photographers recording our events into history. Come to the Secretary's office and introduce yourself to the Secretary. We can give you a Media name tag so that competitors and officials on track know who you are and that you have permission.
We have a reasonable approach with our media policy and request photographers use commonsense.
The club requests that INAPPROPRIATE horse shots remain unpublished on any form of media. Use commonsense with this as we are trusting your judgement.
The club requests that photographs not be used in negative media.
We have a STRICT policy that no photographs are to be taken of the bookie who is present all day UNLESS it is a very wide distant shot or obscured.
After the event the club often gets requests for photos to use in newspaper follow ups. If you would like to have any of your photos published with credit the please email us a copy of the photo with your copyright mark on it.
NANUA BAR POLICY
This establishment has a policy to serve patrons in a responsible, friendly and professional manner.
Our staff is on hand to assist patrons in their decision to drink in moderation and where appropriate avoid the dilemmas of combining drinking with driving.
Our bar staff will not serve any person under the age of 18 years of age nor any person to intoxication.


TED BRIGHT BAR RULES

Abusive language will NOT be tolerated.
Swearing at our bar staff will NOT be tolerated.
Intoxicated persons will be refused service of alcohol & suggest patron have some water or non alcoholic drink.
Fighting will NOT be tolerated.
Bad behaviour will NOT be tolerated.
Underage drinking will NOT be tolerated.
PROOF OF AGE MUST BE SHOWN.

The volunteers and staff will be sober, polite, courteous, and treat patrons with respect at all times.

NANUA is a not for profit club that donates all our bar profits to local charities, when having a drink YOU are helping someone less fortunate than you.
LIABILITY WAIVER EXCLUSION OF CERTAIN RIGHTS TO SUE
By signing the membership form and/or attending the event all listed people have read and understand that the Recreational Services, as set out in the waiver below, may cause my/us and or my/our dependants personal injury or death. By signing this agreement, I/we understand that I/we and my/our dependants waive our rights to sue the Provider for losses relating to my/our and or my/our dependants personal injury or death that result from any negligence caused by the Provider.
All people agree to abide by the Constitution, Conditions of Entry and the Rules & Regulations of the Nanua Picnic Race Club Incorporated, as determined from time to time. We agree the Kimberley Station is not liable at any stage. We agree to the Club using appropriate photos, which I may be included in, for future promotions
The purpose of this agreement is to limit the liability of the Provider to exclude liability for any personal injury or death to the Participant and other people in the care and control of the Participant howsoever caused who signed this form as acknowledgment of the terms and conditions of this agreement.
By signing this form, you are waiving your rights to sue the Provider and Kimberley Station for losses relating to personal injury or death. Under the provisions of the Trade Practices Act and Various State Laws conditions are implied into contracts that mean that the Provider of Recreational Services, noted below, is required to ensure that the Recreational Services it sells to you are: rendered with due care and skill, are fit for the purpose for which they are commonly bought as it is reasonable to expect in the circumstances or might reasonably be expected to achieve the result you have made known to the Provider.

Name and address of Provider: Nanua Picnic Race Club Incorporated, PO BOX 195 Broken Hill NSW 2880

The Participant acknowledges that the activity being undertaken is an activity being undertaken for the purposes of recreation, enjoyment or leisure which involves a significant degree of physical risk. The Provider acknowledges that they are providing Recreational Services detailed below which means; providing facilities for participation in a recreational activity, or training a person to participate in a recreational activity, or supervising, adjudicating, guiding or otherwise assisting a person's participation in a recreational activity.
The Participant hereby acknowledges that in attending the recreational activity that there are inherent risks involved to him or her or other people in their care and control. This agreement is directed and limited to inherent risks that are patent. The participants also acknowledge that the purpose of the recreational activity is for the benefit of the Participant and for the benefit of those people attending with the Participant and that at all times the Participant is responsible for his or her own actions and the actions of those other people in his or her care and control.

Steps taken by the Nanua Picnic Race Club Incorporated to avoid the danger of personal injury or death
1. Providing assistance and support to organisers in the safe conduct of their activities.
2. Implementation of a risk management approach to events sanctioned by the Club
3. Publication of resources to support the risk management approach of the Club
4. Implementation of the rules and regulations as agreed by the committee of the Club.
The Participant acknowledges that during all times while he or she is attending the recreational activity, he or she does so at his or her own risk, and that the Participant, and other people in the care and control of the Participant, will not hold the Provider or any of its employees or agents liable for any personal injury or breach of contract whether caused by the negligence of the Provider its employees or agents howsoever caused or otherwise. The Participant acknowledges that in the event that he or she or any of the other people in their care and control find either or any of them is in difficulty that they are to stop the activity or request that the activity be stopped if appropriate and seek help and/or assistance and advice.